| | | |
| --- | --- | --- |
| Aston Martin | | |
September 1967 - April 1972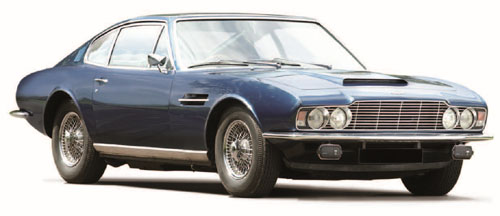 ---
---
The Aston Martin DBS was first shown in September 1967, originally intended to replace the DB6, although both models ran concurrently for 3 years. Originally powered by the carry over 3995cc six cylinder engine, the DBS was designed in-house by William Towns and was a big change from the smaller DB4/5/6 shape only available in coupe form. In September 1969, it was announced that the DBS was now available with a 5340cc V8, the model being known as the DBS V8, at the time being the fastest four-seat production car in the world (275km/h). A Series 2 DBS was introduced with the DBS V8 and can be identified by no louvres in C-pillar, louvres under the rear windscreen, deepened panels in the front and rear, and deeper stainless steel sill covers.
Following the DB5s use in the earlier James Bond films, the DBS was used in On Her Majesty's Secret Service (1969) though no gadgets were present. The DBS was also used in the TV series, The Persuaders! (1971) starring Roger Moore before his James Bond tenure.
A total of 790 DBS six cylinder models and 405 DBS V8s were made between 1967-1972. The DBS and DBS V8 models were produced up to May 1972 where they were replaced by the Aston Martin Vantage and Aston Martin V8 models respectively. The DBS V8 has been sometimes referred to as the Aston Martin V8 Series I.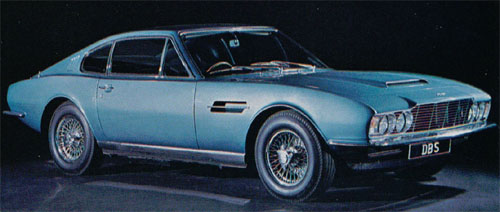 DBS
DBS, 4.0L I6, saloon, 209kW@4500rpm, 390Nm@3850rpm, £4,473

DBS, 4.0L I6, saloon, 242kW@5750rpm (Vantage engine no cost option)

DBS V8, 5.3L V8, saloon, 238kW@5000rpm, 325Nm@5000rpm, £5,281 (from September 1969)


Engine: DBS: 3995cc twin overhead cam inline six-cylinder, triple SU carburettors, triple Weber carburettors or AE Brico fuel injection. DBS V8: 5340cc twin overhead V8 with Bosch fuel injection.
Transmission: 5-speed ZF manual, Borg-Warner automatic transmission (DBS optional), Chrysler Torqueflite automatic transmission (DBS V8 optional)
Power: Standard: 210kW@5500rpm, DBS V8: 257kW@6000rpm
Acceleration: Standard: 0-96km/h- 7.1 sec, DBS V8: 6.0 sec
Max. Speed: Standard: 225km/h, DBS V8: 275km/h
Chassis: Steel platform chassis, box-section body frame with aluminium alloy body
Length: 4580mm
Width: 1830mm
Weight: DBS: 1588kg, DBS V8: 1727kg
Wheels: Standard: 15-inch wire wheels, DBS V8: GKN Kent light-alloy wheels
Brakes: Four-wheel Girling disc brakes, hydraulically operated operated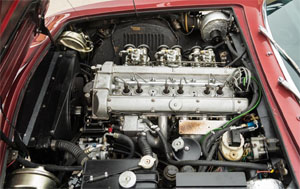 v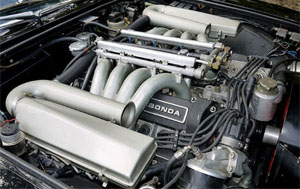 Aston Martin DBS

Aston Martin DBS

Aston Martin DBS

Aston Martin DBS V8

Aston Martin DBS V8

Aston Martin DBS V8

Aston Martin DBS

from The Persuaders

Aston Martin DBS

interior

Aston Martin DBS

front badge

Aston Martin DBS

rear DBS badge

Aston Martin DBS

side vent badge

Aston Martin DBS

fuel injection side vent badge

Aston Martin DBS

Vantage side vent badge

Aston Martin DBS V8

side vent badge

Aston Martin DBS

wire wheels

Aston Martin DBS V8

GKN Kent 15x7" alloy wheels
An olive/bronze metallic Aston Martin DBS was used in On Her Majesty's Secret Service (1969) and a small cameo in Diamonds Are Forever (1971). Unlike the DB5 in earlier films, no gadgets were seen installed on the DBS. is the most famous of all the James Bond cars. The number plate used was GKX8G



---
---