FM Ford Mustang
April 2016 - June 2018

---
---
The FM Ford Mustang was released in Australia in April 2016 after a long introduction. In a way, it replaced the Ford Falcon as the Ford performance model in Australia. The models shared the showroom for several months for the first time in Australia since the 2001 FTE Mustang Cobra, and the 1960s models before it.The FM was very successful in Australia with constant demand. The model was replaced by the facelifted FN in June 2018.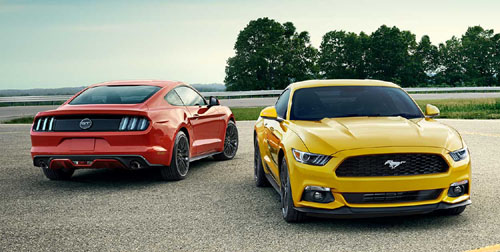 FM Mustang
EcoBoost, 2.3L turbo 4-cyl, Fastback, 233kW@5600-5700rpm, 432Nm@3000rpm. $A44,990.
EcoBoost, 2.3L turbo 4-cyl, Convertible, 233kW, 432Nm. $A53,990.

GT, 5.0L V8, Fastback, 306kW@6500rpm, 530Nm@4250rpm. $A54,990.
GT, 5.0L V8, Convertible, 306kW, 530Nm. $A63,990.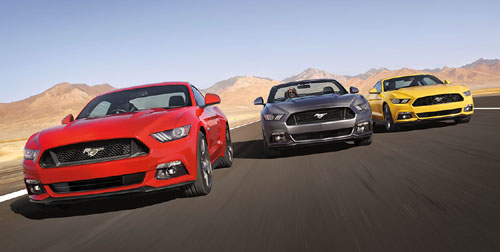 Tickford (the successor to Ford Performance Vehicles) sold cosmetic and mechanical upgrades for Ford models including the Everest, Ranger and the FM Mustang. Tickford sold multiple upgrade packs for the FM Mustang, including the following models:
Performance Pack, 2.3L turbo 4-cyl, 233kW; 5.0L V8, 306kW
20 inch Tickford wheels (silver or black), 25mm lowered suspension, stainless steel quad exhaust, rear diffuser, side stripe. Package price $A9,990.
Performance Pack +, 2.3L turbo 4-cyl, 270kW, 520Nm; 5.0L V8, 360kW, 585Nm
Performance tuned engine, cold air intake, throttle body spacer. Package price $A2,990 on top of Performance Pack.
Bathurst '77 Special, 5.0L supercharged V8, 542kW, 827Nm
Commemorating 40 years since the famous factory Ford/Allan Moffat 1-2 win at the 1977 Bathurst 1000
High performance supercharger, aluminium intercooler, low-temp radiator, high-flow fuel injectors, full remap on the ECU, 3" Tickford exhaust system, rear diffuser, 25mm lowered suspension, 20" Tickford 10-spoke gold alloy wheels, Wilwood brakes, uprated interior, full decal kit and replica rear wing. Limited to 77 made. $A64,500 + donor vehicle.
Racing Edition, 5.0L V8, 360kW, 585Nm; 5.0L supercharged V8, 542kW, 827Nm (optional)
Performance tuned engine, full carbon fibre aero package, Project 6GR 20" wheels, Wilwood brakes, 3" stainless steel exhaust, uprated interior, 25mm lowred suspension, stripe and side decals.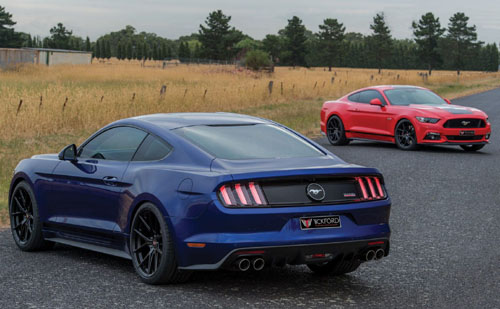 Range

FM Ford Mustang EcoBoost

Fastback


FM Ford Mustang EcoBoost

Convertible


FM Ford Mustang EcoBoost

Fastback


FM Ford Mustang GT

Fastback


FM Ford Mustang GT

Convertible


FM Ford Mustang GT

Fastback


Applique kit


front and rear


Body Styling Kit (Ford Licensed Acessories)


Convertible


Body Styling Kit (FLA)


Fastback
| | | |
| --- | --- | --- |
| FM Tickford Mustang Performance Pack | FM Tickford Mustang Performance Pack | FM Tickford Mustang Performance Pack + |
| FM Tickford Mustang Performance Pack + | FM Tickford Mustang Bathurst '77 Special | FM Tickford Mustang Bathurst '77 Special |
| FM Tickford Mustang Racing Edition | FM Tickford Mustang Racing Edition | |
Wheels


FM Ford Mustang EcoBoost


19" x 9" ebony black alloy wheels


FM Ford Mustang GT


19" x 9" ebony black alloy wheels


FM Ford Mustang GT (optional)


19" x 9" lustre nickel finish alloy wheels


FM Tickford Mustang


20" x 9.5" (f) 11" (r) silver alloy wheels


FM Tickford Mustang


20" x 9.5" (f) 11" (r) satin black alloy wheels


FM Tickford Mustang Bathurst '77 Special


20" x 9.5" (f) 11" (r) gold alloy wheels

Emergency and other vehicles

| | | |
| --- | --- | --- |
| FM Ford Mustang Police | | |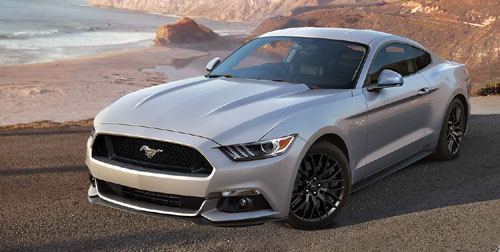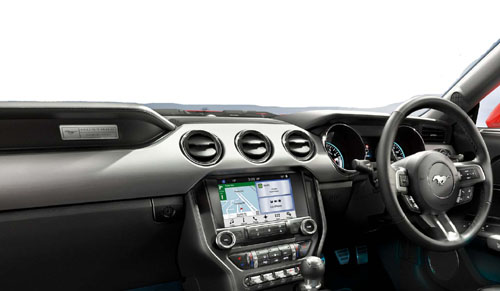 Colours as at introduction of the FM Ford Mustang, April 2016:

Race Red, Comptition Orange, Triple Yellow, Deep Impact Blue, Ruby Red
Absolute Black, Magnetic, Guard, Ingot Silver, Oxford White
The FM Mustang sits in Ford Australia's performance model range. Ford performance models as at June 2016:

Competitors of the FM Ford Mustang at introduction:
| | | |
| --- | --- | --- |
| | | LD Chrysler 300 |
---
---