| | |
| --- | --- |
| VN/VP/VR/VS Holden | |
August 1988 - August 1997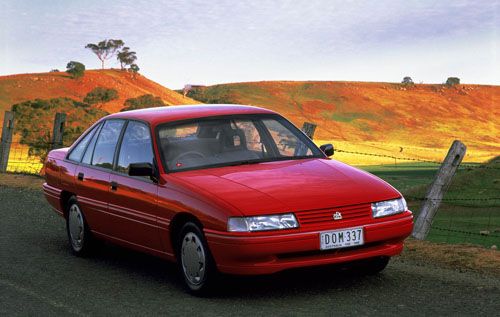 ---
---
The second generation Holden Commodore began with the VN, introduced in August 1988. Bigger than the first-generation Commodore with an all-new wide-bodied design based on the Opel Omega. The VG Holden Utility was introduced in August 1990 and was the first Holden ute since the 1984. Also reintroduced was the Statesman and Caprice models with the VQ released in March 1990.
The facelifted VP Holden Commodore was released in October 1991 replacing the VN and VG models. The VQ Series II Statesman and Caprice were released in November 1991. A major facelift was introduced in July 1993, with the VR Holden Commodore, Statesman and Caprice models The final facelift was the VS model introduced in April 1995.
The VS Series II Holden Commodore, released in June 1996, was replaced by the third-generation VT Holden Commodore in August 1997. The VS Holden Statesman, Caprice and utility models continued and were released in Series III guise in mid-1998. The VS Holden Statesman and Caprice were replaced by the WH model in June 1999. The VS series II utility was replaced by the VU Holden Commodore utility in December 2000.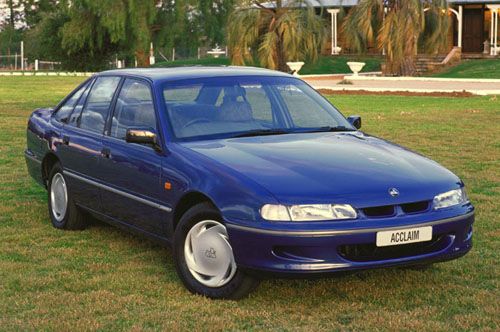 Commodore
VN Commodore
On sale: August 1988 - October 1991 (on sale Sept 1988)
Body styles: sedan, wagon
Total made: 215,180
Range:
Commodore Executive sedan ($20,014), Commodore Executive wagon ($21,316), Berlina sedan ($24,781), Berlina wagon (@26,661), Calais sedan ($31,265), Commodore S sedan ($21,665) (Nov 1988), Commodore S wagon ($21,183) (June 1991), Commodore SS sedan ($26,375) (Mar 1989)
Limited edition: Vacationer (sedan/wagon, 3000 made, Oct 1990, $22,923), LE (sedan/wagon, April 1991, $24,049), LS sedan (450 built, July 1991, $28,990), LS wagon (20 built, NZ only, July 1991)
HSV range: SV6 (64 built, Apr 1989), Clubsport (410 built, Jul 1990, $33,320), SV3800 (491 built, Oct 1988, $39,000), SV89 (200 built, Apr 1989, $44,200), SV LE (sedan/wagon, 190 built, Dec 1989, $43,140), SV5000 (359 built, Oct 1989, $52,995), SV T30 (30 built Jun 1990, 10 built Jul 1991), SS Group A (302 built, Nov 1990, $68,950)
Engine:
2.0L OHC 4-cyl 83kW@5200rpm 169Nm@2800rpm (Export only)
3.8L V6 125kW@4800rpm 292Nm@3200rpm
3.8L V6 127kW@4800rpm 288Nm@3200rpm (MY90)
3.8L V6 127kW@4800rpm 293Nm@3600rpm (MY91)
3.8L V6 132kW@4800rpm (SV3800)
5.0L V8 165kW@4400rpm 385Nm@3200rpm (from March 1989)
5.0L V8 180kW@4600rpm 400Nm@3800rpm (HSV)
5.0L V8 200kW@5400rpm 410Nm@3600rpm (SV5000)
5.0L V8 215kW@5200rpm 411Nm@4800rpm (SS Group A)
VG Utility
On sale: August 1990 - January 1992
Body styles: utility
Total made: 5,690
Range:
utility (18,990), S utility ($21,390)
HSV range: Maloo (132 built, Nov 1990, $32,870), LS (75 built, Sep 1991, $26,950 V6, $29,234 V8)
Engine:
3.8L V6 127kW@4800rpm 288Nm@3200rpm (MY90)
3.8L V6 127kW@4800rpm 293Nm@3600rpm (MY91)
5.0L V8 165kW@4400rpm 385Nm@3200rpm
5.0L V8 180kW@4600rpm 400Nm@3800rpm (Maloo)
VQ Statesman and Caprice
On sale: March 1990 - November 1991
Body styles: LWB sedan
Total made: 9,396
Range:
Statesman ($39,950), Caprice ($54,950)
HSV range: Statesman SV90 (134 built, Jul 1990, $54,775), Statesman 5000i (50 built, May 1991)
Engine:
5.0L V8 165kW@4400rpm 385Nm@3200rpm
5.0L V8 180kW@4600rpm 400Nm@3800rpm (SV90)
5.0L V8 200kW@5400rpm 410Nm@3600rpm (5000i)
VP Commodore
On sale: October 1991 - July 1993 (Series II - Early 1993)
Body styles: sedan, wagon, utility (from Jan 1992)
Total made: 111,770
Range:
Commodore Executive sedan ($23,992), Commodore Executive wagon ($25,492), Berlina sedan ($29,992), Berlina wagon ($32,292), Berlina LX sedan ($31,952), Berlina LX wagon ($34,209), Calais sedan ($37,892), Commodore S sedan ($26,392), Commodore S wagon ($27,892), Commodore SS sedan ($31,892), utility ($20,192), S utility ($22,728)
Limited edition: SS sedan V6 (150 built, Mar 1992, $32,088), Vacationer (sedan/wagon, Nov 1992, $24,844), Calais International Series (150 built Sep 1992, 150 built 1993, $43,285)
HSV range: Club Sport (387 built, Oct 1991, $38,979), Club Sport 5th Anniversary (65 built, March 1993, $43,063), Club Sport 5000i (50 built, May 1993, $49,950), Commodore Formula (67 built, May 1993, $30,661), SV91 (103 built, Oct 1991, $47,500), Sport wagon (43 built, Nov 1991, $39,734), 5th Anniversary Sport wagon (5 built, Mar 1993, $37,932), Senator (201 built, May 1992, $45,450), Senator 5th Anniversary (15 built, Mar 1993, $48,725), Senator 5000i (136 built, Jun 1992, $58,450), Senator 5th Anniversary 5000i (30 built, March 1993, $59,993), GTS (130 built, Oct 1992, $53,750), Maloo utility (34 built, Mar 1992, $36,746), Maloo 5th Anniversary utility (15 built, Mar 1993, $37,932)
Engine:
2.6L 6-cyl 110kW@5600rpm 220Nm@3600rpm (Export only)
3.8L V6 127kW@4800rpm 293Nm@3600rpm
5.0L V8 165kW@4400rpm 385Nm@3200rpm
5.0L V8 180kW@4600rpm 400Nm@3800rpm (HSV & option)
5.0L V8 200kW@5400rpm 410Nm@3600rpm (HSV)
VQ Series II Statesman and Caprice
On sale: November 1991 to March 1994
Body styles: LWB sedan
Range:
Statesman V6 ($39,420), Statesman V8 ($42,979), Caprice ($58,512)
HSV range: Statesman 5000i (31 built, Apr 1992, $63,500), Statesman 5000i 5th Anniversary (9 built, Mar 1993, $63,224), Statesman SV93 (46 built, Nov 1992, $52,590)
Engine:
3.8L V6 127kW@4800rpm 293Nm@3600rpm
5.0L V8 165kW@4400rpm 385Nm@3200rpm
5.0L V8 180kW@4600rpm 400Nm@3800rpm (SV90)
5.0L V8 200kW@5400rpm 410Nm@3600rpm (5000i)
VR Commodore, Statesman and Caprice
On sale: July 1993 - April 1995 (Statesman and Caprice from March 1994)
Body styles: sedan, wagon, utility, LWB sedan
Total made: 165,262
Range:
Commodore Executive sedan ($25,302), Commodore Executive wagon ($26,879), Commodore Acclaim sedan ($29,183), Commodore Acclaim wagon ($29,720), Berlina sedan ($33,107), Berlina wagon ($35,504), Calais sedan ($42,082), Commodore S sedan ($28,240) (from Oct 1993), Commodore SS sedan ($36,244), utility ($21,008), S utility ($23,648), Statesman ($43,633), Caprice ($58,201)
Limited edition: Equipe (sedan/wagon, Feb 1995)
HSV range: Club Sport sedan (1117 built, Aug 1993, $44,264), Club Sport wagon (77 built, Aug 1993, $45,281), GTS (277 built, May 1994, $59,324), Senator (632 built, Aug 1993, $51,299), Senator 215i (223 built, May 1994, $66,376), Maloo utility (156 built, Aug 1993, $36,975), Statesman 185i (48 made (185 i & 215i), Sept 1994, $60,590), Statesman 215i (48 made (185 i & 215i), Oct 1994, $71,750), Caprice 215i (3 built, Oct 1994, $82,950)
Engine:
2.6L 6-cyl 110kW@5600rpm 220Nm@3600rpm (Export only)
3.8L V6 130kW@4800rpm 295Nm@3200rpm
5.0L V8 165kW@4400rpm 385Nm@3200rpm
5.0L V8 185kW@5200rpm 410Nm@3600rpm (HSV & 185i option)
5.7L V8 215kW@4800rpm 475Nm@3600rpm (HSV)
VS Commodore, Statesman and Caprice
On sale: April 1995 - August 1997 (Statesman and Caprice till June 1999; Utility till December 2000)
Body styles: sedan, wagon, utility, LWB sedan
Total made: 277,774
Range:
Commodore Executive sedan ($26,780), Commodore Executive wagon ($28,440), Commodore Acclaim sedan ($30,890), Commodore Acclaim wagon ($31,460), Berlina sedan ($35,990), Berlina wagon ($38,520), Calais sedan ($43,880), Commodore S sedan ($31,330), Commodore SS sedan ($38,790), utility ($22,230), S utility ($25,530), Statesman ($45,800), Caprice ($59,650)
Limited edition: Equipe (sedan/wagon, March 1996 and October 1996), Vacationer (sedan/wagon, Sept 1995, $30,370), Esteem (sedan/wagon, March 1997, $29,610), 50th Anniversary utility (500 built, Feb 1998, $28,990), SS utility (600 built, May 199 and March 1999, $34,390), Olympic edition utility (1100 built, April 2000, $27,990), Statesman International (Series I 250 built Nov 1995 $53,170, Series II 250 built Feb 1997 $59,580), Statesman 50th anniversary (250 built, Oct 1998, $54,560)
HSV range: Maloo utility ($42,170), 10th Anniversary Maloo utility (30 built, Feb 1998, $53,990), Manta sedan ($45,360), Manta wagon ($52,218), Club Sport sedan ($49,790), GTS sedan ($65,975), GTS-R (85 built, Feb 1996, $76,000), Senator 185i ($59,785), Senator 215i ($72,740), Statesman 185i ($65,680), Statesman 215i ($76,690), Grange 185i (Sep 1996, $72,500), Grange 195i (Feb 1999, $73,695), Grange 215i (Sep 1996, $83,500), Caprice 215i (87,230)
Engine:
2.5L DOHC V6 125kW@6000rpm 227Nm@3200rpm (Export only)
3.8L V6 147kW@5200rpm 304Nm@3600rpm
3.8L Supercharged V6 165kW@5200rpm 370Nm@3200rpm
5.0L V8 165kW@4400rpm 385Nm@3200rpm (Series I)
5.0L V8 168kW@4400rpm 395Nm@3600rpm (Series II & III)
5.0L V8 179kW@4600rpm 400Nm@3600rpm (Sequential injection, Series III from Nov 1998)
5.0L V8 185kW@5200rpm 410Nm@3600rpm (HSV & 185i option)
5.0L V8 195kW@5200rpm 430Nm@3600rpm (Sequential injection, HSV from Nov 1998)
5.7L V8 215kW@4800rpm 475Nm@3600rpm (GTS)
5.7L V8 225kW@4800rpm 500Nm@3600rpm (HRT enhanced)
VN Commodore

VN Holden Commodore Executive

sedan


VN Holden Commodore Executive

sedan


VN Holden Berlina sedan


VN Holden Berlina

sedan


VN Holden Berlina

wagon


VN Holden Berlina


VN Holden Calais


VN Holden Calais


VN Holden Calais


VN Holden Commodore S sedan


VN Holden Commodore S

sedan


VN Holden Commodore SS


VN Holden Commodore LE

sedan


VN Holden Commodore Vacationer

wagon


VN HSV Clubsport


VN HSV Clubsport


VN HSV SV3800


VN HSV SV89


VN HSV SV5000


VN HSV SS Group A


VN HSV SS Group A

VG Utility

VG Holden

utility


VG Holden S

utility


VG Holden S utility


VG HSV Maloo


VG HSV LS
VP Commodore

VP Holden Commodore Executive

sedan


VP Holden Commodore Executive

sedan


VP Series II Holden Commodore Executive sedan


VP Series II Holden Commodore Executive

sedan


VP Holden Berlina

sedan


VP Holden Berlina

sedan


VP Holden Berlina LX

sedan


VP Series II Holden Calais


VP Holden Calais


VP Holden Calais


VP Holden Commodore S

sedan


VP Series II Holden Commodore S

wagon


VP Holden Commodore SS


VP Holden Commodore S

utility


VP HSV Clubsport


VP HSV Commodore Formula


VP HSV SV91


VP HSV Sportwagon


VP HSV Senator


VP HSV Senator


VP HSV Senator 5000i


VP HSV GTS


VP HSV GTS


VP HSV Maloo

VR Commodore

VR Holden Commodore Executive

sedan


VR Holden Commodore Executive

sedan


VR Holden Commodore Executive wagon


VR Holden Commodore Executive

wagon


VR Holden Commodore Executive


VR Holden Commodore Acclaim

sedan


VR Holden Berlina sedan


VR Holden Berlina

wagon


VR Holden Calais


VR Holden Calais


VR Holden Commodore S

sedan


VR Holden Commodore SS


VR Holden Commodore SS


VR Holden Commodore SS


VR Holden Commodore Equipe

sedan


VR Series I Holden Commodore S

utility


VR Series II Holden Commodore S

utility


VR HSV Clubsport

sedan


VR HSV Clubsport

sedan


VR HSV Clubsport

wagon


VR HSV Senator


VR HSV GTS


VR HSV Maloo

VS Commodore

VS Series I Holden Commodore Executive

sedan


VS Series II Holden Commodore Executive

sedan


VS Series II Holden Commodore Executive wagon


VS Series I Holden Commodore Acclaim

sedan


VS Holden Berlina

sedan


VS Holden Berlina


VS Series II Holden Calais